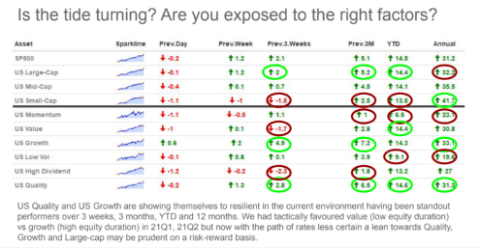 Is the tide turning?

Are you exposed to the right factors?
07/07/2021
The path of the global economy and particularly rates is less certain relative to expectations in 21H2, according to our models. Policy makers will be tempted to withdraw COVID relief and central banks will toil with the "transitory" vs "secular" inflation question.

Given this backdrop, US Quality and US Growth are showing themselves to be resilient in the current environment having been standout performers over 3 weeks, 3 months, YTD and 12 months. We had previously tactically favoured value (low equity duration) vs growth (high equity duration) for the US in 21H1 but now with the path of rates less certain a lean towards Quality, Growth and Large-cap may be prudent on a risk-reward basis whilst the world waits for the central banks next move.